Answered by Dr. Christina Chambreau
The best way is for you to build the health of your dog because healthy dogs are much less likely to attract fleas, so have that be your main focus. Now occasionally even healthy dogs will get fleas, like if you're visiting a place that hasn't had dogs in it for a couple of weeks and now your dog comes in and those fleas have just been waiting to leave. So if you do see fleas, there are plenty of safe, non chemical ways to get rid of them. 
Number one is to give a bath and use an herbal shampoo, or if you don't have an herbal shampoo just use lots of water. If you have some shampoo, even if you have to use your own shampoo because you've just gotten fleas, massage, really rub it in. Let the soap sit there for about 5 to 15 minutes if you can, and then rinse really carefully, really really rinse. And if there are fleas there, you will see dead fleas coming off, and the water may look red or bloody, and you're worried. But that's because the fleas eat some blood and so their poop is going to be bloody. Then you can finish with a lemon rinse, something you probably have at home, or an herbal rinse. 
Now to prevent fleas, you can actually get tags that have micro frequencies that repel fleas, so that's another totally safe approach. You can use flower essences, Diatomaceous Earth. And remember if you're struggling with fleas because your dog is not yet healthy, it's important to be treating the house and the yard, and there are many books that are talking about that. So avoid those chemicals!
I'm Doctor Christina Chambreau, licensed veterinarian, with HolisticActions!.
Suggested Treatments: 
Build health – healthy dogs rarely get fleas and it is easier to eradicate them. See our Holistic Pet Health 101 Course for steps, including no chemical flea treatments, to build health

Treat house and yard along with the dog

Bathing, leaving the suds on for 15 minutes while you massage and super rinse, again with massage. Warning – it's OK to see reddish water – it is from the flea poop.
Related Symptoms: 
Itching

Bald, red spots on skin

Black, gritty flea dirt
DISCLAIMER: Holistic Actions! does not provide advice on certified medical treatments. Content is intended for informational purposes only and to equip you with the tools needed for Holistic Medical Decision Making (HMDM). It is not a substitute for clinical assessment, diagnosis, or treatment. Never use content found on the Holistic Actions! website as the basis for ignoring advice from your veterinarian to seek treatment. If you think you may have a veterinary emergency, please call your vet or an animal hospital immediately.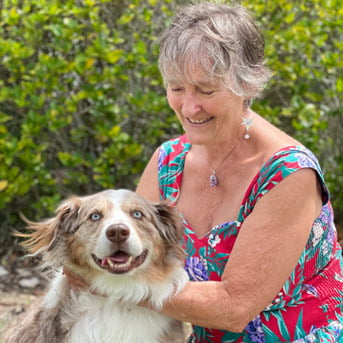 Dr. Christina
Christina Chambreau, DVM, is an internationally known homeopathic veterinarian and associate editor of the Integrative Veterinary Care Journal, she's written several books on animal healthcare. 
After opening her own homeopathy veterinary practice in 1983, she founded the Academy Of Veterinary Homeopathy and was on the faculty of the National Center for Homeopathy Summer School for ten years.
Dr. Christina is also an integrative medicine adjunct faculty liaison for the Maryland Veterinary Technician Program and lectures on a wide array of topics including integrating holistic options into veterinary practices, as well as guidance on how to choose the best approaches to heal animals and sustainability.