Answered by Dr. Christina Chambreau
Well, the very best flea treatment for cats is to build their health so they won't even attract fleas,  they're much less likely to ever be infested by fleas. Okay, well while you're working to build health by doing all sorts of great exercise, playing with them, mental exercise, feeding the best possible diet, maybe a fresh food diet. 
While you're working on doing that, let's decrease toxins which build health. One of the ways to decrease toxins is to not use those flea chemicals because they actually can harm your cat and can create resistance in fleas. So, then they stop working. Your best and safest is a flea comb and to flea comb your cat every day if you've had any problems with fleas in the past or you think you've seen a flea. 
Now, it's important to know about flea dirt versus just dirt. Flea dirt is flea poop and because they suck blood it turns black. So when you see black gritty stuff that when you moisten it on a damp towel, it turns reddish like blood, you know you got fleas. At that point, you can use herbal, flower essences, and diatomaceous earth sprinkled and worked into the cat. As well, you can get little flea tags that put out small vibrations and these will help prevent getting fleas if you know you might get them, as well as, helping get rid of them, and keeping them away. Now, remember you have to treat your house and your yard at the same time if your cat's hanging out in the yard.
This is Dr. Christina Chambreau, a licensed veterinarian at HolisticActions!. Have a great day. 
Suggested Treatments: 
Flea comb
Flower Essences
Building vitality and balance – see HA for details
Related Symptoms: 
Black gritty flea dirt
Itching
Seeing fleas jumping
DISCLAIMER: Holistic Actions! does not provide advice on certified medical treatments. Content is intended for informational purposes only and to equip you with the tools needed for Holistic Medical Decision Making (HMDM). It is not a substitute for clinical assessment, diagnosis, or treatment. Never use content found on the Holistic Actions! website as the basis for ignoring advice from your veterinarian to seek treatment. If you think you may have a veterinary emergency, please call your vet or an animal hospital immediately.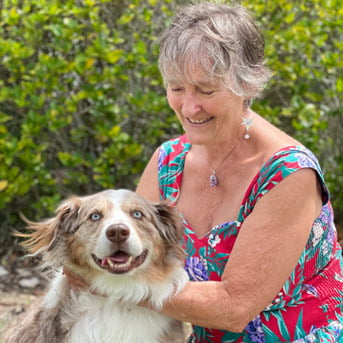 Dr. Christina
Christina Chambreau, DVM, is an internationally known homeopathic veterinarian and associate editor of the Integrative Veterinary Care Journal, she's written several books on animal healthcare. 
After opening her own homeopathy veterinary practice in 1983, she founded the Academy Of Veterinary Homeopathy and was on the faculty of the National Center for Homeopathy Summer School for ten years.
Dr. Christina is also an integrative medicine adjunct faculty liaison for the Maryland Veterinary Technician Program and lectures on a wide array of topics including integrating holistic options into veterinary practices, as well as guidance on how to choose the best approaches to heal animals and sustainability.