Seemingly without warning, your beloved companion animal develops a life-threatening illness.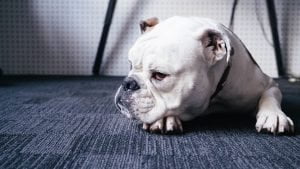 Sue and Bear's story can help you decide what to do.
Bear is a playful eight year young Bulldog. All of a sudden he started having seizures.
His worried guardian brought him to a neurologist who ran diagnostic tests that showed a large brain tumor.
Why did this happen?
Sue had tried to do everything right. She fed local raw meats in variety, minimized vaccines and drugs, didn't use any flea or tick poisons, etc.
Important Questions – HMDM Method
What happened and what can Sue do now?
Her HMDM (Holistic Medical Decision Making) STEP 1 goal is to get Bear as healthy, in any way, for him to have the best quality of life for as long as possible.
That brought Sue to HMDM STEP 2. Investigate the problem and learn all of the possible treatments.
Her neurologist laid out the current conventional options. These were steroids and other chemotherapy, surgery and Cyberknife (radiation). None of them would save Bear's life, but they might buy him a few months.
This didn't seem like much time. Especially considering all of the side-effects and quality of life lowering limitations of each.
So Sue quickly (she didn't have much time to help Bear) moved on in her research. And learned more about everything from special diets, nutritional supplements, acupuncture, etc. that were claimed to help seriously ill dogs.
Bear had already tried some of these holistic treatments prior to skin tumors had been removed. None of them seemed suited to this dire situation.
A week went by and Bear was getting worse. It was time to move on to HMDM STEP 3.
The Answer and Holistic Action!
During Sue's research, Bear's guardian learned more about the holistic and homeopathic perspective. One that was not currently accepted conventionally, but which could help.
The brain tumor might have resulted from a subtle internal energetic imbalance.
The idea being that the imbalance first resulted in seemingly minor problems like his skin tumors. Even though they were removed, the underlying cause persisted.
It therefore made sense to address this underlying problem directly. Even if most US veterinarians said that it was not "real". As Bear's guardian learned, this was not the case elsewhere.
She therefore chose to find a veterinarian who could treat this way and work alongside her neurologist. Her veterinary team was complemented by holistic practitioners of massage, Reiki, flower essences and other gently supportive methods. Everything possible to give Bear the best possible life.
Fine-tuning the Vital Force
Sue was then introduced to the homeopathic concept of regaining health by listening very closely to Bear's body. Apparently it had been "talking" to her all along. Through the externally visible and internally measurable symptoms.
They could then be used to treat him. Veterinary and MD homeopaths had hundreds of years of successful clinical outcomes. Even in critical cases and during otherwise fatal epidemics.
Treating and monitoring Bear using this approach required commitment on Sue's part. She started keeping a daily journal of symptoms and responses to treatment.
In order to best use this seemingly unrelated information she touched base with her veterinary homeopath every few days.
That way, she was best able to help. By frequently evaluating symptom changes, both the underlying energetic balance and any side-effects from conventional treatments could be reduced.
At this time, Bear's story is not finished, but he continues to be a happy boy.
You can also learn to help your pets as Sue did. The free resources on this site will get you started. If you'd like to go even further, Holistic Actions! Academy is here to help.