BrightHaven 

Holistic Animal Hospice Care
NAVIGATING A TERMINAL DIAGNOSIS
Online Course Registration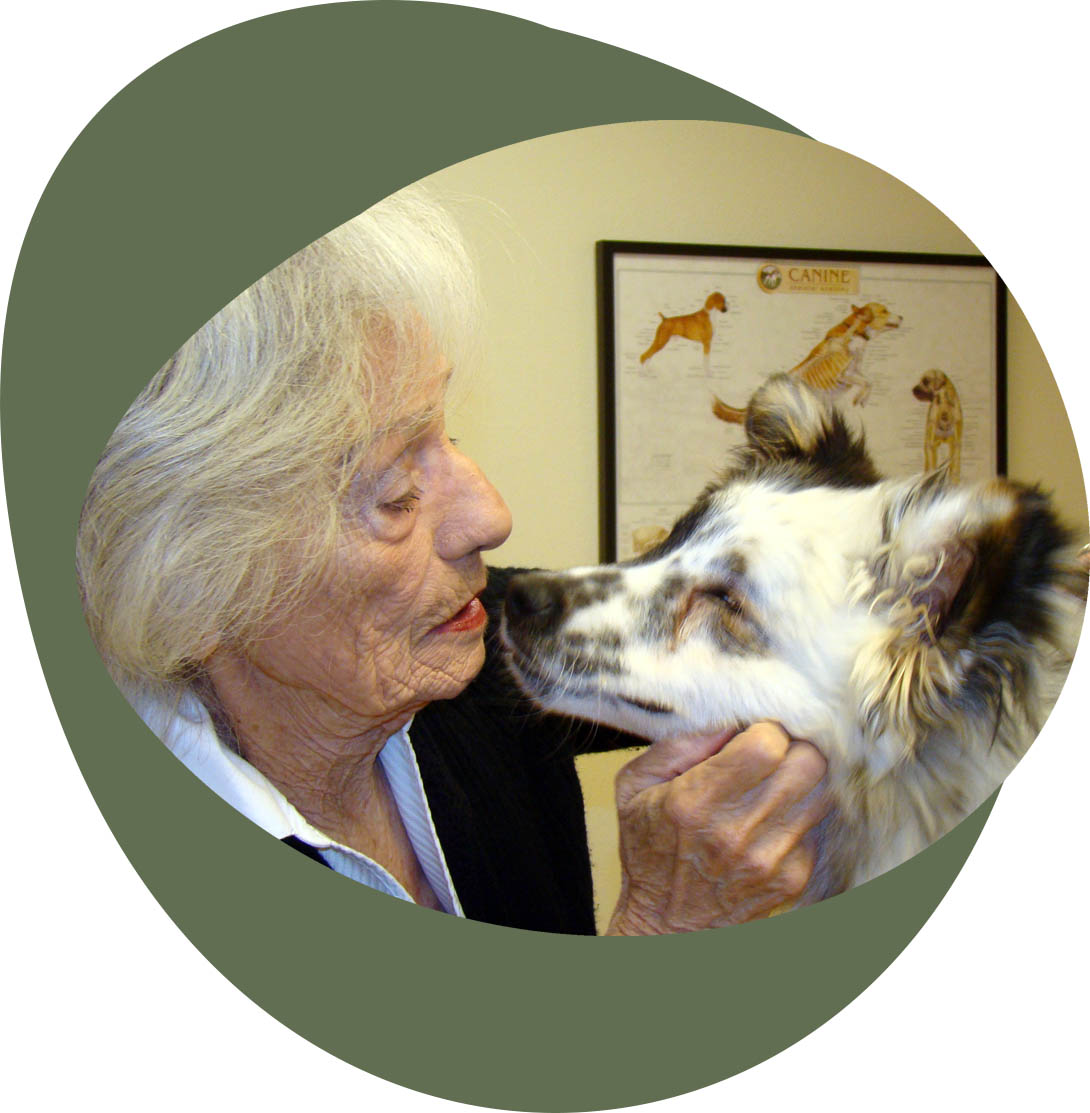 INCLUDES:
Lesson 1. Introduction to BrightHaven
Lesson 2. The wake up call
Lesson 3. Care for the caregiver
Lesson 4. At the vet's office: the practicalities
Lesson 5. Finding & planning the way forward
Lesson 6. At home & making your decisions part 1
Lesson 7. At home & making your decisions part 2
Lesson 8. Understanding pre- & post- death grief
Lesson 9. Summary & Knowledge Check
COURSE DESCRIPTION
One of the most difficult things for any animal lover and pet parent to hear is being told by the vet that your animal's illness is terminal. What do I do now? How can I best support my animal friend? What is the best way forward for our family? These are just a few of the many challenging questions that a terminal diagnosis raises. 
With this course, we wish to hold your hand and help you to navigate this path with a deeper sense of peace, confidence and clarity. This course will help you do just that by:
Understanding the wake-up call

Looking at the importance of self-care for the caregiver in this journey 

Providing you with tools to navigate the visit to the vet's office and the aftermath of a terminal diagnosis, which can also be applied to any serious illness diagnosis

Exploring topics that are important for you to consider as you find and plan your way forward, including pain and suffering, quality of life, will to live and quality for dying

Sharing additional useful information that will help you and your family make and implement the best decisions for your beloved animal and unique situation 

Walking through the various types of grief 

Finishing off the presentation with a summary of key concepts and helpful resources  
BrightHaven (www.brighthaven.org) is a pioneer and leader in the ever-expanding field of animal hospice, and our experience with hospice-supported natural dying is distinct and well known. We are privileged to have provided hospice care for and shared the dying experience with over 600 animals who taught us so much. At BrightHaven, it IS all about living well through the last breath!
NOTE: This is an online video course. The lessons are accessed via your personal "my courses" section on holisticactions.com. You retain indefinite access to all the course material, so you can take however long you need to complete the course.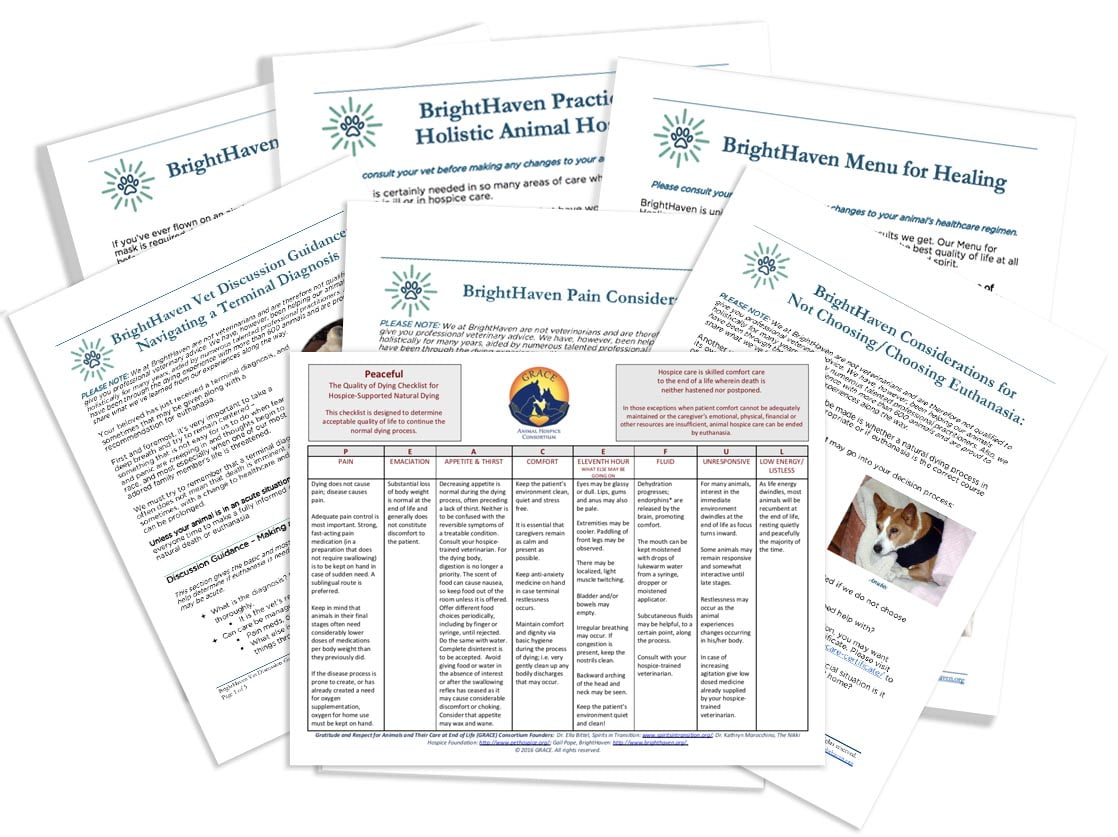 In addition to 9 detailed lessons followed by an interactive quiz to test your knowledge, you will receive the following 7 downloadable handouts: 
BrightHaven Menu for Self-Care

– shares ways you can care for the caregiver.

BrightHaven Vet Discussion Guidance: Navigating a Terminal Diagnosis

– provides you with questions and considerations for informed decision making.

BrightHaven Menu for Healing

– focuses on the best quality of life at all stages, developed by following the wisdom of the animals. 

BrightHaven Pain Considerations

– presents Q&A format regarding pain and pain management, a very important factor in the decision-making process.  

Quality of Dying Checklist

–

helps you make an informed decision, rather than one based on fear, regarding natural dying and euthanasia.

BrightHaven Considerations for Not Choosing/Choosing Euthanasia

– assists you in determining w

hether a natural dying process in its own good time is desired and appropriate or if euthanasia is the correct course of action in your particular situation.   

Animal Hospice Care Certificate

– Reduces onlookers'

concerns regarding your animal's condition with this form that is signed by your vet. 
AT THE END OF THIS COURSE:
You will appreciate the importance of self-care for you, the caregiver, and how it helps your animal.  

You will learn ways to promote your animal's healing – defined as an optimal balance of body, mind and spirit – regardless of the circumstances. 

You will have a deeper awareness of the grieving process. 

You will better understand what death is and what it is not. You may even come away with a deeper acceptance of death, which may help you to live more fully! 

You will be empowered to make and implement informed, conscious decisions regarding your animal's health and wellbeing, and plan a way forward that fits your unique situation following a terminal diagnosis. When choices are made with awareness, the possibility for future regret is greatly reduced!
Lesson 1. Introduction to BrightHaven
Lesson 2. The Wake Up Call
Lesson 3. Care for the caregiver
Lesson 4. At the vet's office: the practicalities
Lesson 5. Finding & planning the way forward
Lesson 6. At home & making your decisions part 1
Lesson 7. At home & making your decisions part 2
Lesson 8. Understanding pre- & post- death grief
Lesson 9. Summary and knowledge check