Animal Mad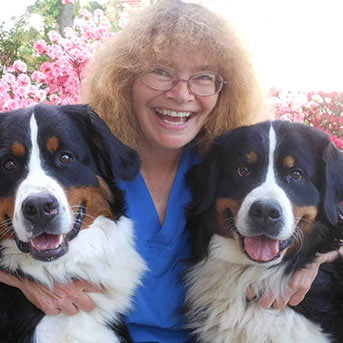 Like so many of you, I was animal mad when I was growing up. Unfortunately, my mum and older brother had bad allergies, so until an outside cat adopted me, I relied on a kind neighbor's dogs – walking and training them. My own first dog arrived when I was 15. My dad brought home a white boxer puppy that was going to be euthanized by its breeder and my mum couldn't say no. This was the mid 70s, and since then I have had dogs, cats, chickens, ducks, geese, and horses.
I met my husband John at Ohio State, when we were both living in the same undergraduate scholarship dorm, located under the stands (really) of Ohio Stadium. We married in 1982, during vet school. I earned my Masters during vet school; combining Immunology and Poultry Science made the vet school coursework more relevant, and it ensured that my husband and I had plenty of eggs to eat. My studies also caused me to doubt the wisdom of the current vaccination paradigm. After graduating from Ohio State in 1985, my first year at a small animal practice in Maryland was abysmal. I went back to Graduate School to study Ethology (Animal Behaviour), while working part time at a different practice with supportive colleagues.. By the time I had finished the coursework for my PhD, I decided that I did like private practice after all, so I opted to forego completing that degree. I continued part time work while raising our two sons.
Fast forward ten years into practice, and I was frustrated. Not with the patients or clients, but with the tools at my disposal. I felt like I was putting out fires temporarily; patients kept coming back for the same problem, and their health slowly declined. About this time, one of my horses developed a chronic lameness, and in desperation, I sought help from an integrative practitioner. Homeopathy, which I had previously dismissed as 'impossible', solved the problem, and I was determined to know more.
Hooked on Homeopathy
In 1996 I took a short course in homeopathy through NCH from Dr. Christina Chambreau, and her suggestions regarding diet sorted out my beloved Newf's allergies. I then was emboldened to struggle through a prolonged case taking and analysis with my first chronic case, an asthmatic kitty. Puddy's people were nearing the end of their resources with his frequent severe attacks. The first prescription helped a bit, and after more study and analysis, the second prescription cured the cat. Puddy remained in good health for 8 years, to the ripe age of 18.
Now I was hooked on this homeopathy, but where to study it? My personality did not mesh well with the course taught in the US at that time. The opportunity arose for my family to relocate to the UK for three years, and I attended the three year course of the Homeopathic Practitioners Teaching Group in Oxford, culminating in successful qualification for my VetMFHom in 2002, via examination by the Faculty of Homeopathy. This education was integral to my development as a homeopath. I had six primary instructors (both MDs and vets), numerous masterclasses, and guest homeopaths. This exposed me to the breadth of homeopathic practice, and opened my mind to the wealth of experience of my international colleagues.
I returned to the US, and found an open minded conventional practitioner with whom I work, seeing patients on her premises. We have an agreeable arrangement: I have conventional diagnostics available, and the practice has a holistic practitioner for clients that prefer that approach. The practice owner is respectful of how my practice differs from hers, and I respect that she is doing the best for her patients with the tools at her disposal. I treat patients with homeopathy, nutrition, and acupuncture, tailoring the approach to the individual.
My Passions
My passion in practice is educating clients to make the best decisions for themselves and their animal companions. I have been on the receiving end of the medical system, through my experiences with our children and my parents' cancer diagnoses. I understand the way the medical establishment can, intentionally or not, make us feel guilty when our decisions do not agree with what the doctor recommends. I have been pressured to make decisions that do not align with my beliefs. I have experienced the frustration of being unable to get a clear and meaningful discussion of the options available. I want, as do most people, a recognition that my thoughts are important, and a sense that my doctor is interested in what is best for me as an individual. My basic premise in practice is that each person has the same commitment to their family as I do, and deserves the same consideration that I would like to receive.
I enjoy speaking about homeopathy, and I am involved with the AVH (Academy of Veterinary Homeopathy) the BAHVS (British Association of Homeopathic Veterinary Surgeons) and the IAVH (International Association for Veterinary Homeopathy). Through these organizations I promote quality homeopathic practice worldwide. We work to defend homeopathy from attacks in various countries (including the US), establish standards for homeopathic practice and education, and support efforts of national veterinary homeopathy groups.
I do have interests aside from homeopathy! My husband and I cherish the time we spend with friends and family, and our sons and their partners are delightful. We love to travel, and explore different cultures and cuisines. We enjoy music; I play piano several hours a week, and we attend concerts ranging from Baroque pop, to classical, to jazz, to classic and indie rock. My organic garden leans heavily toward native plants and fruits, and my greenhouse has tropical fruit trees and plants. We have bred three litters (four in 2019) of naturally reared (NR = minimally vaccinated, weaned to raw) Bernese Mountain Dogs; this will be the sixth generation of NR dogs on the maternal side. I enjoy cooking, and baking, and we both delight in good food from DC – Baltimore restaurants.
I was pleased to be asked to join the Holistic Actions! faculty by Dr. Jeff. I have known Dr. Jeff since 2002, when I became a member of the AVH, and I first met Dr. Christina at that introductory homeopathy course in 1996. The remit of HA! aligns closely with my personal goal of educating people to provide the best possible care for their animals.