Answered by Dr. Christina Chambreau
Your cat has cancer, and you're starting to wonder if cannabis oil is a treatment for cancer. You've been reading about this since there's a lot of information about it on the internet. Yes, it can be a treatment. However, it depends on the cancer, on the animal, and on the stage that the cancer is in. There are a lot of if's about any treatment for cancer. Lab research on humans and human research says "Yes, CBD is effective in treating some tumors and some cancer." There has been at least one study done on canine tumors. Certain cells of canine tumors were tested in the lab, and they showed a response to CBD, so there have been a few studies done and more are coming every day. 
Using CBD As A Treatment
It's really important to be sure that you've got good quality CBD. I wouldn't recommend just trying CBD by itself if you have an animal with cancer. Instead, I would strongly suggest you work with a really great homeopathic veterinarian or Chinese medicine veterinarian, someone who specializes in treating the whole health of your pet, and focuses on making your dog or cat feel better. CBD may be part of the treatment they recommend or you can ask about it and suggest it. The CBD you buy needs to be organic, preferably extracted with CO2, and you really need to pay attention to the source of where it's coming from. 
So, yes CBD is a holistic treatment for cat cancer, but it's something you need to be careful with and make sure the oil you use is very good quality. 
I'm Dr. Christina Chambreau, licensed veterinarian on the faculty of Holistic Actions!, where we talk a lot about the many different treatments for pet cancer and even have a course on the topic.
Suggested Treatments: 
Cannabis

Surgery

Traditional Chinese medicine
Related Symptoms: 
Weakness, lethargy

Weight loss

Swellings
DISCLAIMER: Holistic Actions! does not provide advice on certified medical treatments. Content is intended for informational purposes only and to equip you with the tools needed for Holistic Medical Decision Making (HMDM). It is not a substitute for clinical assessment, diagnosis, or treatment. Never use content found on the Holistic Actions! website as the basis for ignoring advice from your veterinarian to seek treatment. If you think you may have a veterinary emergency, please call your vet or an animal hospital immediately.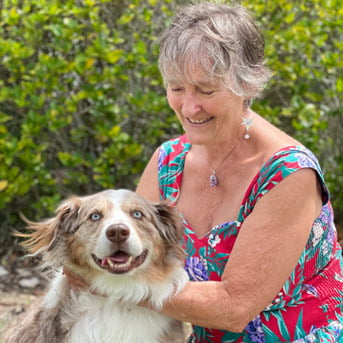 Dr. Christina
Christina Chambreau, DVM, is an internationally known homeopathic veterinarian and associate editor of the Integrative Veterinary Care Journal, she's written several books on animal healthcare. 
After opening her own homeopathy veterinary practice in 1983, she founded the Academy Of Veterinary Homeopathy and was on the faculty of the National Center for Homeopathy Summer School for ten years.
Dr. Christina is also an integrative medicine adjunct faculty liaison for the Maryland Veterinary Technician Program and lectures on a wide array of topics including integrating holistic options into veterinary practices, as well as guidance on how to choose the best approaches to heal animals and sustainability.