What to do after injury?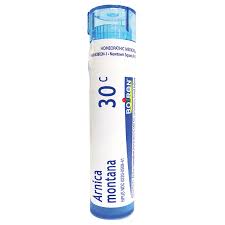 A frequent question I get from community members is what to do right after an injury. Whether the injury was from a bad turn during agility to being t-boned by another dog during play.
Here's how you can help right away (without anti-inflammatories like Rimadyl):
Get the Arnica pellets from your emergency first aid kit. If you don't have Arnica on hand, ask a friend or buy them in your local health food store. Arnica is extraordinarily useful anytime your pet experiences a "bruised" sensation.
Give one pellet of any potency (the highest potency available) that you have. Even better would be to a add a pellet to a bottle of any water. Whatever is available. Give about 1 tsp.
Now assess the situation using Holistic Medical Decision Making. This quick and easy process will help you decide what to do. For example, you should go to the veterinary clinic right away if the injury was severe. However, if it wasn't, and if there isn't an obvious fracture, you may choose to wait and repeat the Arnica. Especially if your pet is already feeling better after the first dose.
If you are using the liquid, succuss 10x and give another dose in 10 minutes if your pet isn't already improving. To succuss, "whack" the bottom of the bottle vigorously usually against the palm of your hand. Succussions subtly increase the strength and effectiveness of the next dose.
Re-assess after each dose, and repeat if improvement is not continuing. Dose every ten minutes for an hour, then less frequently.
Don't wait for improvement if there was a major trauma like an encounter with a car. Start dosing on the way to the ER in order to get the best outcomes from any needed veterinary treatmen
We hope that you'll never have to use this emergency procedure. If you do, please share your experiences.
Be well.
Dr Jeff