All-Access Member
Registered
Joined

Oct 15, 2020
Messages

49
Hello Dr Jeff,
As planned, I got my 4 1/2 month old kitten vaccinated today. I didn't want to get him vaccinated, but the only vet hospital here requires at least one vaccine to be able to do the neutering...
About 5 hours after his vaccine FVRCP from Nobivac 3, he started shivering and then his body temperature started to rise. At 39.2 C, I was not overly concerned but I gave him a dose of Silica 30ch because he was shivering almost constantly (that was around 3hpm). I had also noticed that he was getting startled more easily when he started shivering.
About 15 min after the Silica dose, he vomited semi-digested fairly thick opaque light brown food matter once. I was hoping it was a good sign, a discharge coming out, but he did not improve after, kept shivering, had gurgling abdominal sounds and his temperature kept rising to 40.8 C.
Around 4h30pm, I gave him a dose of Sulphur 30ch thinking he might respond better. His temperature was down to 40.5 C around 5h15pm but now at 5h45pm it's 40.7 C, he's not shivering anymore since the Sulphur dose, but he's still quite lethargic, not eating and not drinking anything since about 1hpm. His sleeping position looks more comfortable though and he did a normal cat rounded back stretch before lying back down. But I can't get him to purr and he usually purrs as soon as I touch him or talk to him. No new symptom since the Sulphur dose. Should I wait or give him another 30ch dose or should I increase to Sulphur 200ch one dose because this is an acute case? I'm giving it in water one pellet diluted in about 7-8 oz of water. He's usually very playful and affectionate, but went hiding and is definitely more indifferent to his surroundings since the fever. Phosphorus might be another good choice because of his sudden indifference during the fever, but it's only a grade 1 for the fever with shivering and for the ailments after vaccination. What do you think?
This is the last vaccine he is going to get...
Here is the chart that I did: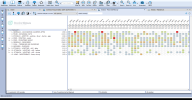 I really appreciate your time whenever you get a chance to answer or anybody else who wants to answer!
Gratefully,
Véronique
Last edited: