HOLISTIC ESSENTIALS
ONLINE COURSE REGISTRATION
INCLUDES:
Lesson 1.  Holistic essentials overview
Lesson 2.  Broad picture of health
Lesson 3. Taking charge of your pet's health
Lesson 4. Food: fresh feeding, affordability, balancing
Lesson 5. Feeding dogs & cats
Lesson 6. Recipes
Lesson 7. Preserving vitality, avoiding toxins
Lesson 8. Physical & mental stimulation
Lesson 9. Holistic medical decision making model
Lesson 10. Harnessing vitality
Lesson 11. Holistic healing team
COURSE DESCRIPTION
Learn the basics of holistic animal care. There are 5 essentials you need to know in order to start caring for your animals the way nature intended. In this course, you will gain an in-depth understanding of those essentials, including:
Broader understanding of what health and disease is and how to approach it, monitor it and "intervene".
How to proactively prevent dis-ease by changing your view.
How to build and preserve vitality by becoming your pet's advocate.
How to know when your pet is getting sick even before your veterinarian.
The details of fresh food feeding (including recipes).
How to preserve vitality by avoiding vaccines and other toxins.
How to build vitality by maximizing exercise and mental stimulation.
Using HMDM – Holistic Medical Decision Making in your pet's (and your own) lives.
How to create a healing team with veterinarians and lay practitioners whose goal is whole health.
NOTE: This is an online TEXT course (NOT VIDEO). The lessons are accessed via your personal "my courses" section on holisticactions.com. You retain indefinite access to all the course material, so you can take however long you need to complete the course.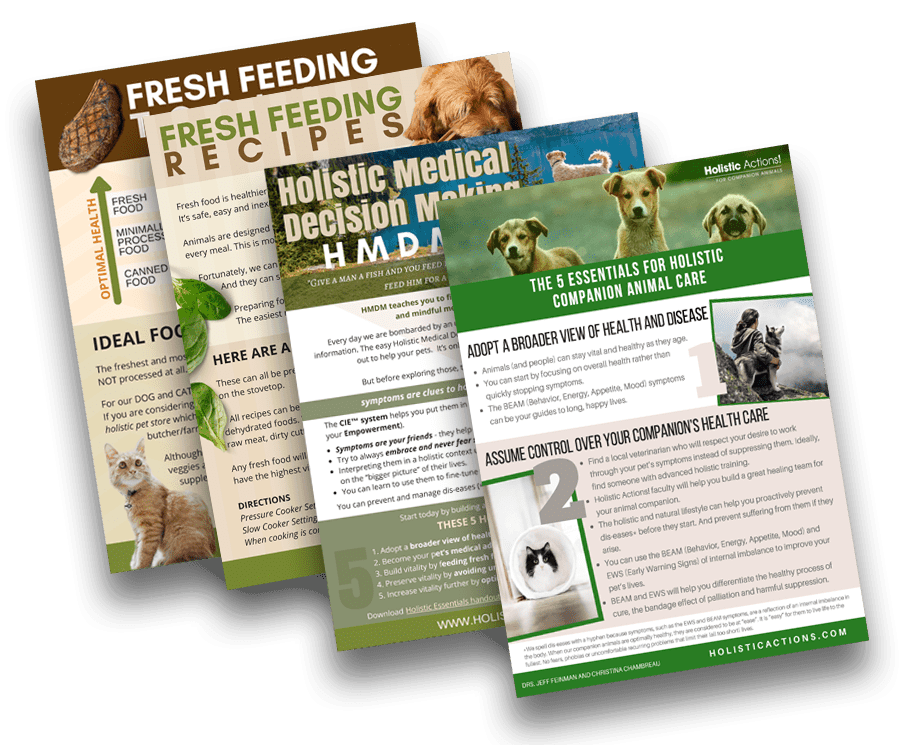 In addition to 10 detailed lessons, you will receive 5 downloadable handouts that you can print out, including fresh feeding recipes, feeding guidelines with links for food, hmdm protocol.
AT THE END OF THIS COURSE:
You will feel more confident and empowered in taking charge of your pet's health.
You will have enough resources to start feeding your animals fresh wholesome diet.
You will feel inspired to live clean supportive lifestyle and eliminate unnecessary toxins.
You will be able to start building a holistic support team for your pet care.
You will start tracking your animals symptoms and be able to make medical decisions with more ease and confidence.
Lesson 1. Holistic Essentials
Lesson 2. Broad picture of health
Vitality/balance & disease resistance
Lesson 3.Taking charge of your pet's health
Learn your pet's language
Benefits and affordability
Food balancing, nutrients, supplements
Dog & cat diet, ingredients
Lesson 7. Preserving vitality
Vaccinations, vaccinosis prevention
Lesson 8. Physical & mental stimulation
Lesson 9. Holistic medical decision making
HMDM protocol & case study
Lesson 10. Harnesing vitality
Curing & treatment evaluation
Lesson 11. Holistic healing team
Finding and selecting vets and other team members